In-Person Campus Tours
Admissions is pleased to offer in-person campus tours!
Tours are available at various times during the week.
Click the link below to schedule a tour.
How to find your way around campus: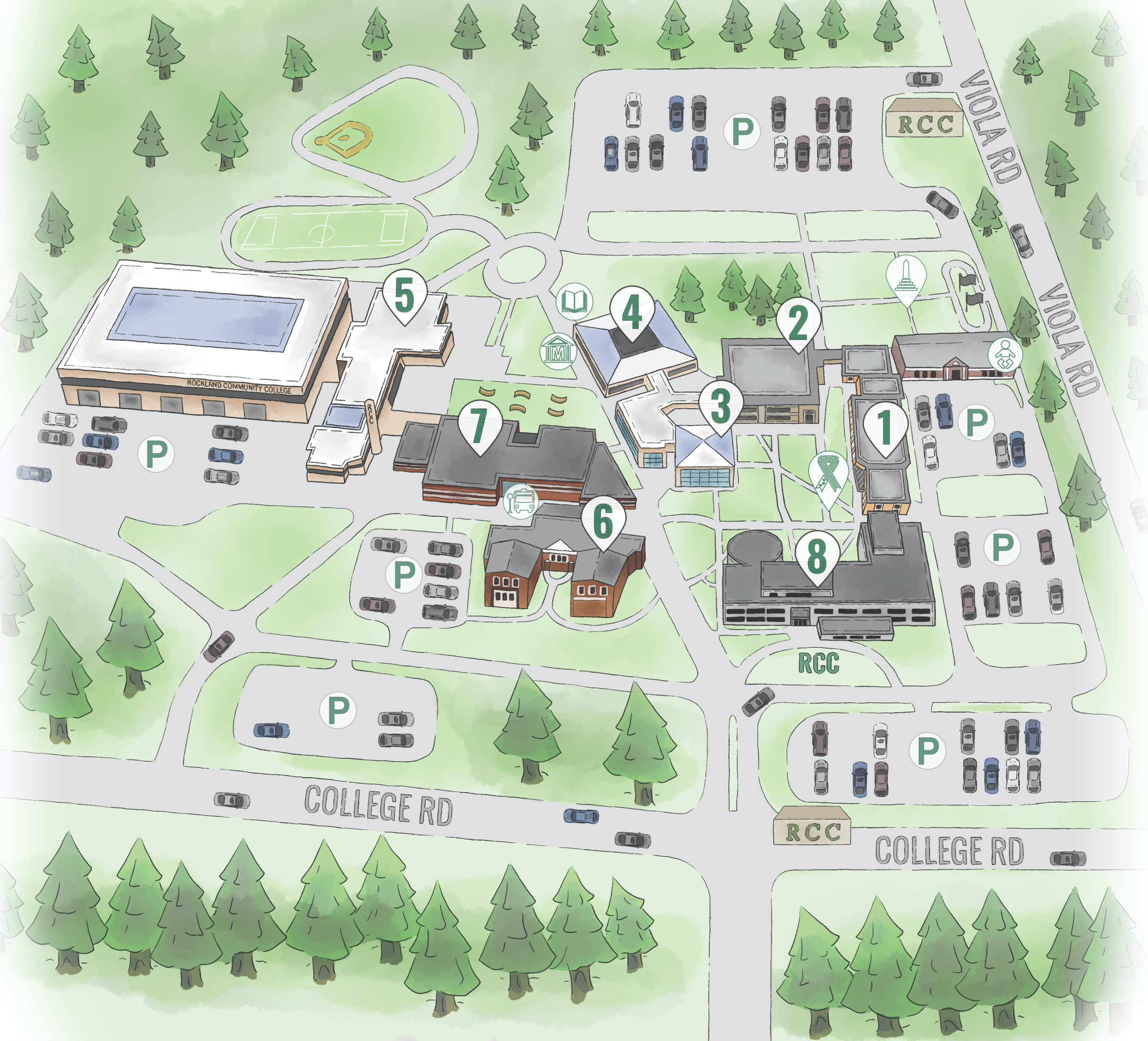 The first digit of any four-digit room number identifies the building in which that room is located. The second digit indicates the floor. Room 2316, for example, is on the third floor of Academic II. Room 6103 is on the first floor of Brucker Hall.
1 – Academic I
2 – Academic II
3 – Student Union
4 – Library
5 – Fieldhouse
6 – Brucker Hall
7 – Cultural Arts Center
8 – Technology Center
Driving Directions
RCC Main Campus
145 College Road, Suffern, NY 10901
Google Map
Driving Directions to Suffern Campus:
Public Transportation
Transport of Rockland (TOR) Bus System serves RCC's main campus from all corners of Rockland County. Currently, TOR has five Bus Routes (59, 93, 94, 95, Loop 3) that stop at RCC each weekday with day and evening routes. TOR buses also provide transportation to the campus on Saturdays and Sundays.
All buses pick up and drop off at the front door of the Cultural Arts Center. RCC provides an outdoor and an indoor waiting area for your comfort. You can also find a bus schedule rack there.
RCC students can purchase a semester-long bus pass at Student Accounts (Technology Center, 1st Floor) for unlimited rides on Transport of Rockland (TOR).* The more you use the pass, the more you will save. The pass card can be purchased at Student Accounts, which can be paid through Financial Aid, Student Loans, cash or credit card.
*Bus pass is valid only during the semester it was purchased. One (1) bus pass per semester – No Replacement.
You can also buy Super Saver tickets at 10 rides for $11. A single-ride cash fare is $2, and cash transfers are an extra $1. Transfers are valid on TOR, Clarkstown MINI-TRANS, Spring Valley Jitney and Westchester Beeline buses. Several TOR routes from RCC also connect to downtown Suffern, where passengers can transfer to Shortline buses or New Jersey Transit trains at an extra cost. NJ Transit also offer a college student pass discount.
Contact Student Accounts for more information at 845-574-4417.
You can receive a message about buses from the Rockland County Department of Public Transportation via mobile text or email alert for Transport of Rockland (TOR) and TRIPS paratransit riders. The Transit Alerts program enables riders to sign-up to receive mobile texts and/or emails when holiday or other system-wide events affect bus service. This new option will help to get the word out to customers about planned service changes such as holiday schedules and detours, as well as service status information during inclement weather.
Commute Within Rockland
Clarkstown Mini-Trans – Community transit bus service operated by the Town of Clarkstown.
T.R.I.P.S. Paratransit – TRIPS provides curb-to-curb alternative service for people who are unable to use regular buses because of a disability. You must be a registered user to use TRIPS.
Commute To/From Rockland
By Bus
By Train

Metro-North Train – Train service from Westchester to NYC. Use Hudson Link to connect to Metro-North Train Stations in Tarrytown and White Plains
New Jersey Transit – Train service from Rockland to New Jersey and New York City

By Ferry

Haverstraw-Ossining Ferry – Ferry travels between Haverstraw, NY and Ossining, NY to connect with the Metro-North train to Grand Central Station.
Resources